Soil Sampling Questionnaires and Instructions
To take a soil sample, decide which test(s) you are requesting then follow the link below to the appropriate sampling instructions and questionnaire. Analysis fees are under Pricing List tab. PLEASE NOTE - Our fees for most tests increased January 1, 2022 and new prices are listed on our forms. Call us with any questions (860) 486-4274. We are not able to test compost samples.
PLEASE NOTE: WE ACCEPT CHECKS OR MONEY ORDERS (Payable to UConn) FOR PAYMENT ONLY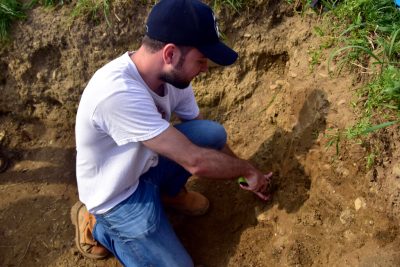 Name of Questionnaire/Instructions Preferred
Standard Nutrient Analysis
| | |
| --- | --- |
| Gardens, Lawns and Landscapes Submission Form (Includes Sampling Instructions and Crops Codes) | PDF |
| Commercial Vegetable/Fruit/Field Grown Nursery Crops Submission Form (Includes Crop Codes) | PDF |
| Sampling Instructions for Commercial Veg/Fruit/Nursery Crops | PDF |
| Agronomic Growers Submission Form | PDF |
| Sampling Instructions for Agronomic Growers | PDF |
| Additional Sample Sheet | PDF |
The textural analysis, organic matter content, pH only (pH is included in the standard nutrient analysis) and soluble salts tests should be sampled in the same manner as for the Standard Nutrient Analysis. ***Please supply an additional 1 cup of soil if you require tests in addition to the Standard Nutrient Analysis. Only ½ cup of soil is required for the soil pH only test.
 OUT OF STATE SOILS - PLEASE READ!
Counties in several states have Fire Ant, Golden Nematode or other invasive pest QUARANTINES! If you live in these areas and send soil to us, it needs to be documented and destroyed. There is an additional disposal fee of $20 per sample. The USDA APHIS website has information regarding which US counties are quarantined. To determine if your soil comes from a quarantine area, CLICK HERE